2014 Incidents
Sta3
Sta31
Sta33
Jan
496
290
161
Feb
471
210
114
Mar
444
255
93
Apr
438
222
103
May
479
249
135
Jun
457
225
123
Jul
491
244
106
Aug
464
259
102
Sep
491
302
119
Oct
467
230
123
Nov
0
0
0
Dec
0
0
0
Total
4698
2486
1179
Past Incidents
Sta3
Sta31
Sta33
2013
5193
2870
1304
2012
5157
2781
1424
2011
5028
2690
1280
2010
5298
3446
1256
2009
5119
4104
1301
2008
4934
3504
1549
Web Counters
Website Visitors
Since
February 26, 2008

Visitors Today
Dec 17, 2014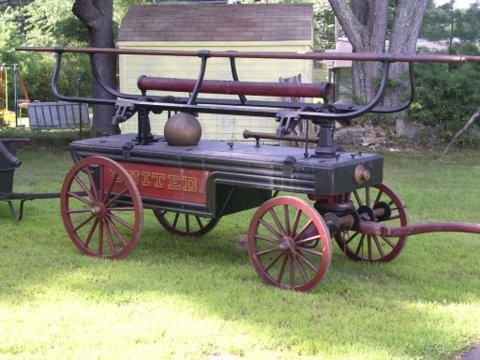 The "Old Lady" is a hand tub pumper owned by the United Fire Company from 1859 to approximately 1880. The pumper was built in Philadelphia, Pa. for the Mechanical Fire Company of Baltimore City in 1821. The pumper was rebuilt by the Rodgers Company of Baltimore in 1847. The Uniteds purchased the "Old Lady" from the Mechanical Fire Company in 1859 after the Mechanical Company received one of the first steam pumpers in Baltimore. Shortly after selling the "Old Lady", the Mechanical Fire Company was absorbed into the Baltimore City Fire Department and became Engine 4. The "Old Lady" was also owned by the United Volunteer Fire Company of Libertytown from approximately 1880 to 1932. Until 2004, the "Old Lady" was in a museum of the Baltimore Equitable Society until the museum closed. The late Lydia Butterworth, past Secretary and Life Member of the Uniteds, deserves credit for making sure the "Old Lady" came home. The "Old Lady" is presently stored and hopefully will be on public display at the proposed Frederick County Fire Museum in Emmitsburg.
---

MFRI STUDENTS TRANSCRIPTS
http://www.mfri.org/izone/student/transcript
Help United Fire Company Make A Difference

Assistant Chief Jerry Dorsey, October 01

ALL Profits and donations will be going directly to Hurwitz Breast Cancer Fund (Not United Fire Company). Help support United Fire Company as we raise money and public awareness to benefit everyone that is waging the war against cancer.  Together we can make a difference in the lives of so many.  Let kick cancers butt! 
The "U" wins THE ZEMBOWER FIRE SERVICE TRAINING AWARD

Assistant Chief Jerry Dorsey, June 19

Read Message from FF Dave Smith.

was in ocean city to visit the convention center tuesday morning and was approached by Smiley White he told me that United Steam Fire Engine Company #3 received the Zembauer Award for the most hours in training hours it was 132.1 hours congrats to those members who keep on training.

Background:

The Zembower Fire Service Training Award was established in 1976 by ... (Full Story & Photos)

Vehicle Leaves Roadway After Collision

Assistant Chief Brendan Beaton, January 31

Company 3 units were dispatched for a vehicle collision on East Patrick Street at Bowman's Farm Road. Sheriffs' Department units were on the scene reporting a two vehicle collision with one vehicle off the roadway down over the embankment. Chief 3-2 arrived on the scene confirming two vehicle collision with one vehicle off the roadway down over the embankment. Chief 3-2 perfuming a quick assessment ... (Full Story & Photos)

2014 Officers

Assistant Chief Jerry Dorsey, January 14

Tuesday January 7th 2014, United Steam Fire Engine Company , held it's department elections. The following individuals were elected into office and will begin to serve their term in office on January 14, 2014. Congradulations to all the newly elected officers.

Administrative Officers President - James Graham

1st Vice President - Robert Hiltner

2nd Vice President - John Droneburg

Secretary - ... (Full Story)





Photo from FNP

Fatal Accident on I70

Chief Officer Jerry Dorsey, November 05

Units on scene at I70 near Rt85 over pass for pedestrian accident. Maryland State Police is still doing there investigation.... (Full Story & Photos)